Bouillabaisse for Americans
By S.L. Gore

Bouillabaisse is a generic French fish soup made famous in Marseilles and the perfect main course to serve when you have about one hour to make a gourmet meal. There are literally dozens of recipes for this famous dish whose only required ingredients are seafood and saffron. The following recipe, easy and delicious, is one I have developed over the years. The list of ingredients might seem daunting, but the prep is a snap.
The flavors, like with most soups and sauces, meld and improve over time. So whether you assemble it at the last minute—or in the morning to serve that night—this simple, yet complex-flavored soup is guaranteed to wow your guests.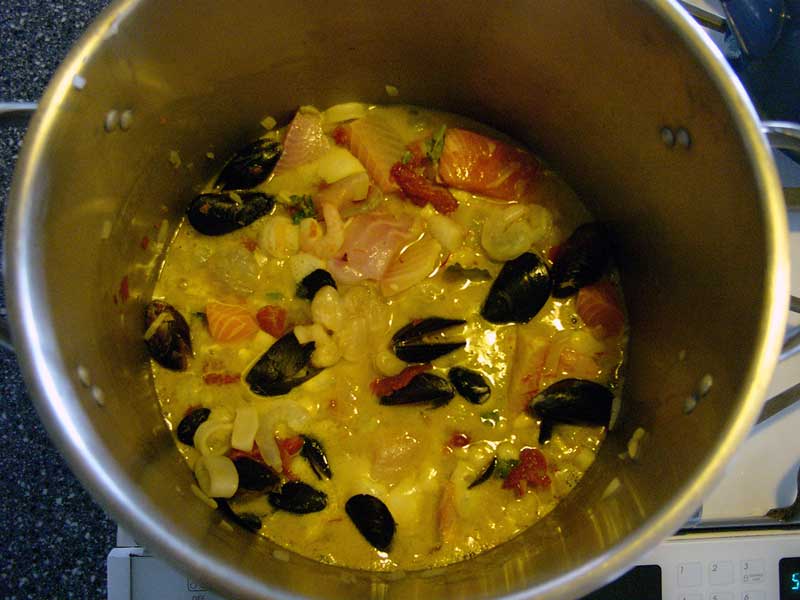 The renowned French saffron fish stew or soup from Marseilles, Bouillabaisse, in the pot.
BOUILLABAISSE
Ingredients:
Fish fillet, thick and cut into large chunks, 2 per person. Cod is excellent.
Peeled shrimp, calamari rings, and mussels in shells. A frozen medley packet is fine.
Total amt of fish should be about 4-5 lbs. for 4 people
olive oil, 4-5 Tbsp (cover bottom of pan)
onions, 2 large yellow, diced
garlic, 4 large cloves, crushed
sweet pepper, yellow, orange or red. 1/3 cup diced.
tomatoes, 3 fresh, peeled and chopped, or 1 small can, chopped (no juice).
fennel, chopped green leaves from several branches or 1 Tbsp dried
Pernod, ½ cup. If not available, use more fresh or dried fennel to taste.
bay leaves (laurel), 3
thyme, several stalks if fresh, ½ tsp if dried
orange peel, diced small, 1-1½ Tbsp
saffron, 1½ tsp (not exact. Can use a little less or more, depending on packaging of saffron.
salt & pepper (to taste)
white wine, dry, 1 cup
cream, heavy, ¼ cup
boiling water, enough to cover ingredients in pan
Soup Preparation:
Sauté onions, garlic and sweet pepper in olive oil in large, heavy pot for 5 minutes.
Add fish and shellfish (not mussels) and turn in onion mixture until coated.
Add tomatoes, fennel, thyme, orange peel, saffron, salt & pepper and turn gently.
Add mussels.
Add Pernod and white wine.
Cover with boiling water.
Let boil fairly rapidly for 15-20 minutes.
Add cream to bind flavors.
That's it. Ready to serve in individual bowls with hot bread or to let sit and ripen.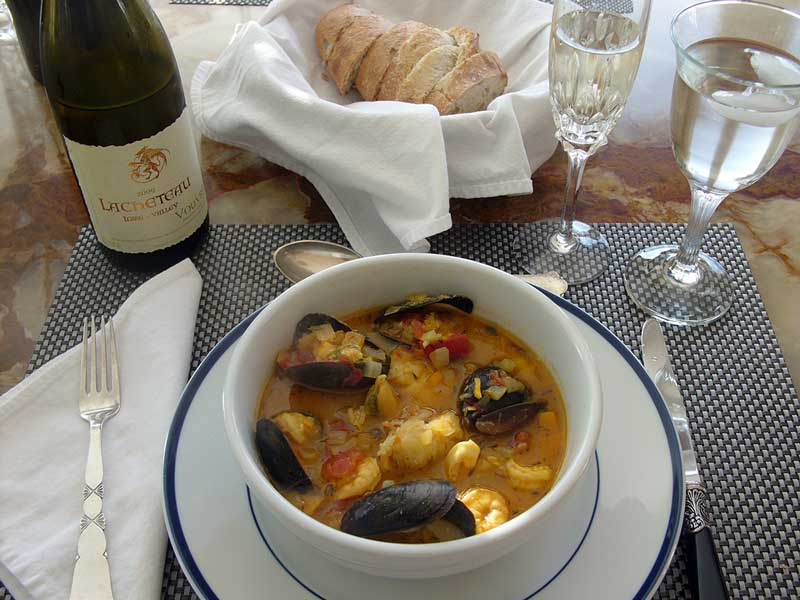 My easy gourmet Bouillabaisse served with crusty bread and a very chilled French Vouvray made from Chenin Blanc grapes grown along the Loire River.
Bread
Use a bread with thick crust and put in the oven at 400 for about 5-8 minutes to make even more crusty.
Optional: spread with crushed garlic and butter to make garlic bread.
Serve in a bread basket to break into small pieces and drop into soup as you eat.
Or, put in bottom of bowl and serve bouillabaisse on top (the French way).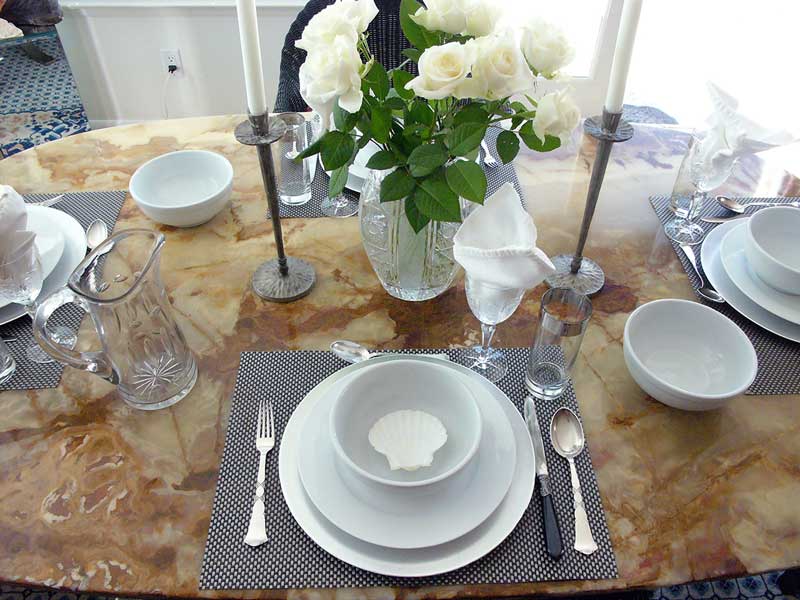 A Provençal lunch setting for four with white roses and large porcelain pasta bowls accented with decorative sea shells. Remove shells before serving!
A Little Sweet or a Big Sweet?
After a bouillabaisse, there's nothing quite like an exotic sweet-tangy fruit sorbet, mango or black currant, to tickle the tongue and gently ease away the lingering saffron and fennel.
If you don't want to stop there but leave your guests breathless, use the sorbet as a palate cleansing prelude to the world's richest chocolate cake that also happens to be the world's easiest.
I'm talking about the Dump Cake, a name as far from the elegant roll of bouillabaisse off the tongue as Chicago is from Marsailles. Make it the day before. Slice it thin; it's richer than rich. For a real showstopper, top each slice off with a dob of homemade whipped cream.
DUMP CAKE
Ingredients:
1 box Devil's Food cake mix (1lb 2.25 oz)
1 pkg instant chocolate pudding mix (42 oz)
2 sticks butter, melted (1 cup)
5 eggs
1 carton sour cream (16 oz)
1 package chocolate chips
1 ½-2 tsps orange extract OR peppermint
Optional: 1 shot of orange or peppermint liqueur.
Optional: heavy whipping cream
Instructions:
Adjust oven rack to middle position. Preheat oven to 350 degrees.
Mix (whisk) melted butter, eggs, extract together in very large mixing bowl.
Dump in pudding mix. Stir well (can use electric mixer)
Dump in sour crème. Mix well. (can use electric mixer)
Dump in cake mix. Mix well. (can use electric mixer)
Dump in chocolate chips. Fold to mix. (do not use electric mixer)
Pour or spoon into greased bundt pan and bake for 55 min.
Remove to cool for 15 minutes.
Optional: dribble liqueur over surface as soon as cake out of oven.
During cooling, bang bottom of pan on hard surface a couple of times to loosen during cooling.
Turn upside down on a cake plate.
Cover tightly and let sit overnight for maximum moistness. Or serve right away, with or without whipped cream.
WHIPPED CREAM
Ingredients:
½-1 cup heavy whipping cream. Doubles in size.
1 cap vanilla extract
1 Tbsp sugar, granulated or powdered
Instructions:
Add vanilla and sugar to cream, whip until thick and has the desired body.
Note: if it becomes too thick, you can add a few drops of heavy cream and stir.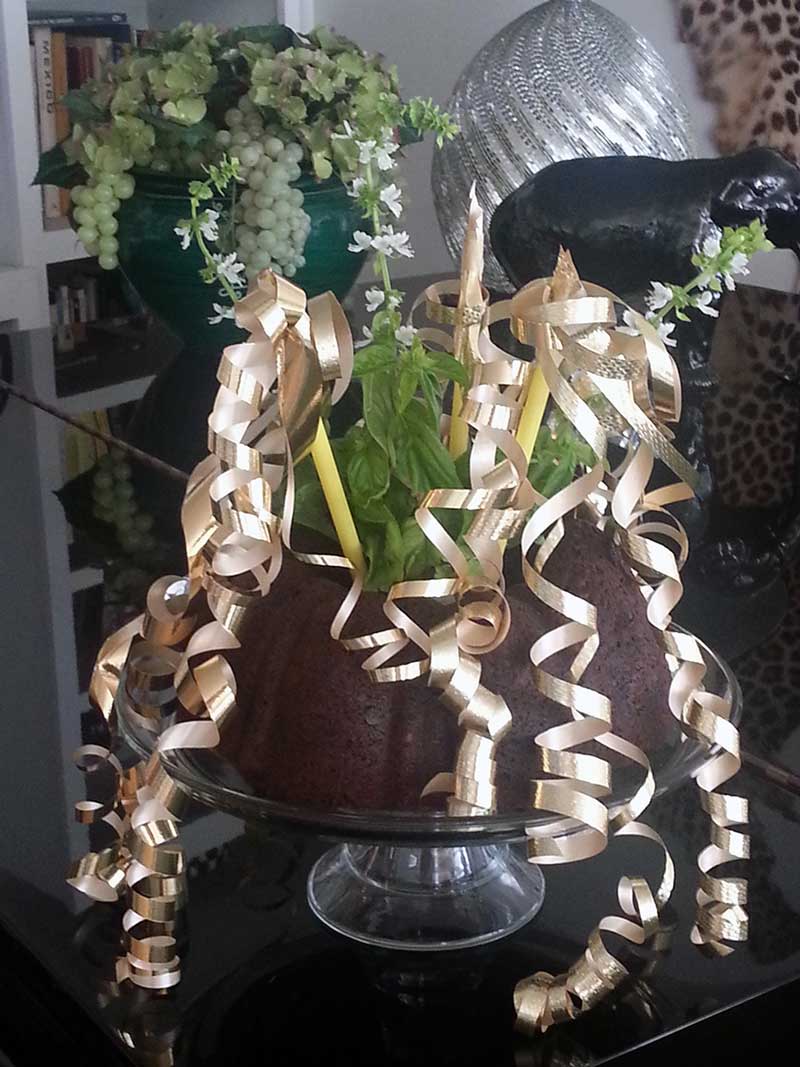 The Dump Bundt Cake in its singular glory dressed up in golden ribbons and decked out with flowering basil branches.