Kathi Kulesza, An Interview
By Sheryl Green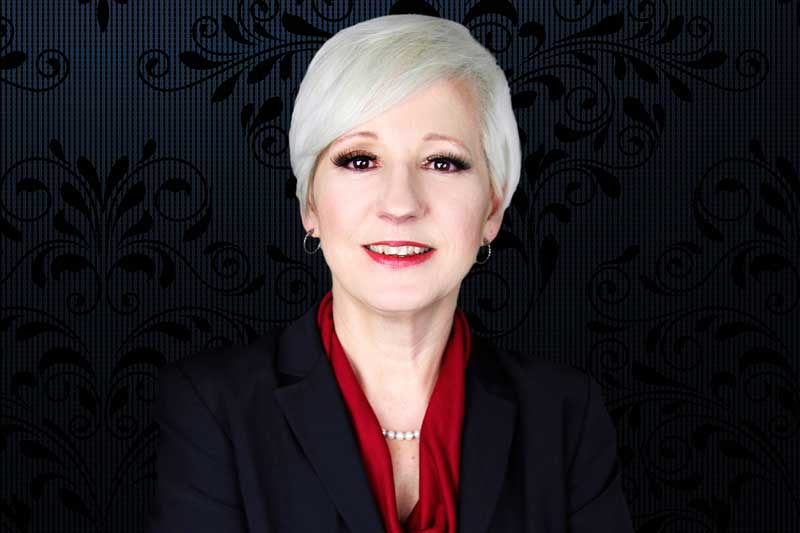 In June 2017, the Las Vegas Chapter of the National Speaker's Association presented the Judi Moreo Outstanding Achievement and Service Award to Kathi Kulesza.
This award recognizes a person who, in the spirit of Judi Moreo serves the membership without hesitation and always with good spirit. She is generous with her time, her love and concern for fellow members. She contributes more to everyone's positive experience than most will ever know. The winner neither demands, expects nor desires to be praised publicly, drawing satisfaction and fulfillment from the experience of helping others have a great experience.
A recent graduate of the NSA Las Vegas Speaker's Academy, Kathi has dedicated the last year of her life to the chapter, handling marketing of the chapter, special events, and sharing news from fellow members. With a Bachelor of Science in Hotel Administration, over 15 years experience in Hospitality Operations and Leadership, and eight years in corporate roles, responsible for loyalty marketing, Kathi is no stranger to the concept of service.
In 2007, she embarked on a wellness journey that led to a different kind of service, becoming a Certified Personal Trainer and Certified Life Coach, and helping people become their best version of themselves.
What did you think about winning the Judi Moreo award for NSA Las Vegas?
Being selected as the first ever recipient (after Judi, of course) is an incredible honor. Being given the award, knowing the contributions that she's made to the organization over the years, her unconditional support of the organization and the members, makes the award all that more meaningful. I love giving my time and energy to NSA, and I didn't need to be recognized for it. But, it is really nice to know that I'm appreciated.
Speaking and wellness are relatively new additions to your life. Where did your career begin?
I started out in Hospitality Operations right out of college and stayed there for 23 years. I worked my way up to managing multiple properties and when an opportunity presented itself to shift into a corporate role in marketing, I took it. I didn't have any traditional education in marketing, but I became the Marketing Operations person, running a newly launched loyalty program for Wyndham International. I was the VP of Wyndham By Request for 5 years until the company was sold. I then became the VP of Quality Assurance and Brand Standards for the launch of Hyatt's new brands: Hyatt Place and Hyatt Summerfield Suites. Finally, I moved to Las Vegas, working as the Executive Director of Players Club for MGM Mirage.
What made you leave the corporate world?
I was fired. (Laughing)
I remember that day like it was yesterday. It was a Thursday in October of 2009. My boss scheduled a meeting at 8:30 am so I went to my office at 7:30 am to gather all of the information for the meeting topic she had given me. When I walked into her office, I saw that she and the head of Human Resources were waiting for me. I knew exactly what was going to happen because I had been in their position many times before.
They told me they weren't extending my contract. They both did their "blah blah blah" thing, and then gave me the parameters of being paid out of my contract. I made a snarky comment about not needing to bring all of my paperwork with me, and then headed home. I threw on some sweats and sat on my couch thinking, "This is probably one of the best days of my life."
I say that because I never would've had the courage to leave corporate America and start a new chapter of my life. I had to get kicked off that train.
Thankfully, you found a different train. Can you tell me about your wellness journey?
When I was very young, my dad called me "Slim" because I wasn't. I always had a few extra pounds on me. I was never categorized as obese, but there was a time when I was a few pounds away from that classification on the BMI charts. When I was working for Hyatt in Chicago, part of my commute involved walking .6 miles to and from the el train. I lost 8 pounds in 8 months and I attributed that to walking a mile each day, 5 days a week.
When I moved to Las Vegas to work for MGM Mirage, they put me up in the Bellagio for 6 weeks and my office was just down the hall. I gained 4 pounds in 6 weeks and when I had my blood tested at an employee wellness fair, I discovered that my cholesterol was extremely high. I knew that I had to get moving. I joined a gym and hired a trainer for a Quick Start program. When the program was finished, I hired him again and I've never looked back.
For the first time in my life, physical activity stuck.
By the time I got fired, I was working out three times a week. When I lost my job, my trainer said, "Now, you have time to go to the gym twice a day." I knew that going to the gym after work had erased all the stresses of the day. So, I figured, I am out of work, I might as well work out.
I learned a lot from my trainer, changed my lifestyle, lost 35 pounds, and got healthy. I toyed with the idea of becoming a personal trainer, but it just seemed so cliché. One day, there were tryouts to teach classes at the gym, so I tried out.
I wasn't selected, but they pre-selected me to teach BodyPump classes. I got certified and started teaching classes and then got certified in group fitness, personal training and life coaching. I liked that I had the practical knowledge of what to do in the gym to get healthy, the experience of what to do in the kitchen to lose weight, and the experience of doing the work on the inside so you're prepared to lose the weight and get healthy, and you can stick with it and sustain the changes. I had lost weight many times before, but always put it back on because I didn't do the inner work necessary to stay committed for the long term.
Now, you are taking your talents to the speaking world. What drew you to speaking?
Some might say that I've always been speaking. Being the first born and the oldest of 6, I've always had an audience. Unlike most people, I really enjoy being in front of people, speaking, teaching, leading. I loved to do it when I was younger, and in my career. Speaking professionally seemed like the natural choice for the next chapter of my life.
What scares you most about embarking on this new career?
I don't normally fear much of anything. If I fail, the worst thing that's going to happen is I'm going to be living with one of my many family members. That's the benefit of having a big family!
I guess what I fear most is being in my own way. Thankfully, the Judi Moreo Award came with a year-long coaching package with Judi. I'm confident she can get me past that fear.
I think many of us struggle with getting in our own way. What's the best advice you've ever been given?
When I was in my late 20's, my General Manager and mentor, Ralph Sifuentes told me that if I wanted to be something, be it now. At the time, I was the assistant GM, but I wanted to be a GM. So, he said, "Every day that you come into work, be the GM".
I've always carried that forward. I've given that advice to people who want the next opportunity. If there's something I wanted such as a job or a role in an organization, I've helped, or done it, or stepped up to do it. I do typically take a leadership role, whenever it's available.
Who has been the biggest influence in your life?
Well, God. But in terms of people, that same mentor, Ralph (he's no longer with us). He was a very spiritual man and had been a priest before becoming the GM. He was a mentor to me in both my spiritual life and in my career. I learned from him: you shouldn't sweat or worry about the small stuff. Have faith that God's got your back. Shortly after him leaving that property, I was promoted to the GM position and it had a lot to do with his mentoring and encouragement.
What inspires you?
The smell of coffee. (Laughs)
There are so many things. My nieces and nephews who are beautiful, amazing kids. They notice things in the world that adults seldom see.
God and His creations: the sky, flowers, the stars. Nature really. My faith inspires me every day.
I'm also inspired by some people at the gym. That small percentage of people who are there on a mission. They are there every single day, fighting to make themselves better. A lot of people look like they are doing it, but they aren't really. These people know that they are in a battle for their life.
What is the biggest challenge you've ever faced?
The funny thing is that I don't look at anything as a really big challenge.
I always look at them as opportunities. I have been fortunate that I haven't had many heavy burdens in my life. I guess if I sat back and thought hard about it, I would think "yikes." But, I just don't live in that space. With that said, my parents didn't have the money to send any of us kids to college so I worked my way through, graduated and had my pick of four job offers. Then, I got in my car and drove halfway across the country to start my career in the hospitality industry.
The biggest challenge or learning experience that I had was as a young manager. I was an assistant manager of a hotel that went through a union election. It tested my belief system, my management skills and people skills, and it probably had some of the most significant impact on me determining who I was going to be in the hospitality industry.
What do you think allowed you to overcome it?
My fellow managers. We all supported each other and were honest with each other. We relied on who we were as people: good people who treated employees with respect. We tried to remain true to who we were. Many of my employees were immigrants who left very high paying, professional jobs in other countries and moved to the US only to find jobs cleaning rooms and toilets so their families could have a better life. These employees inspired me, too. I saw what some people are willing to sacrifice for their families.
Where do you see yourself over the next decade or so?
I want to share what I've learned through my career and my wellness journey with anyone who is willing to listen. They have to be coachable and be willing to take action. I want to help them avoid making all the mistakes that I made. I see myself doing that with groups and audiences, but also in a one-on-one setting.
What else should people know about you?
The main message I want to share with the world is that coming from someone who had the life everyone dreams of: a very successful career, the fancy title, the amazing perks from working in the travel and hospitality industry, the nice car, the ability to live wherever I wanted, and the nice vacations… there was still something missing.
Since I was forced into a career change, I'm much happier and more satisfied, because I'm finally doing what I really want to do instead of what I thought I was supposed to do. I want that for everyone.
Thank you for sharing your journey with our readers. The way that you live your life is an inspiration to others and I have no doubt that your words will encourage others to discover what's missing in their own lives.