Unstuck Conference
By John Polish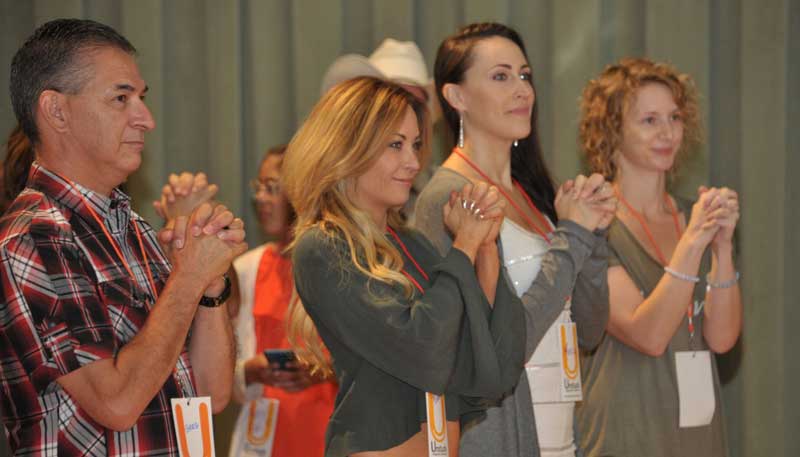 When in the midst of a major tragedy it is hard to picture yourself thriving and living a prosperous life. If you are willing to pick yourself up, turn and look in a new direction, and move forward in faith believing things can work out, then opportunities will come your way.
That is exactly what all 12 speakers at the Unstuck Happiness Conference have done! On August 19th at The Smith Center for Performing Arts in Las Vegas, Nevada, the public had an opportunity to hear from some very inspirational people. All of the speakers shared their struggles, the strategies they used to get Unstuck, and the success they found once they got moving again.
The struggle is real! Leslie Elton, who was attending her second Unstuck Happiness Conference said, "No matter the age of the speaker, their story or gender, they all moved me. It was real and it was raw." At Unstuck, we look for real people with real stories, and we heard some amazing stories at this conference. The speaker lineup consisted of; Christoph Merrill, Heather Estus, Eddie Garcia, Patty Fadhouli, Alexa Glazer, John Polish, John DiDomenico, Kathi Kulesza, Vital Germaine, Sheryl Green, Siloh Moses and Judi Moreo.
John DiDomenico, the number one Donald Trump impersonator in the world, handled the emcee duties and was amazing and funny. We were blessed to have experienced professionals like Judi Moreo and Vital Germaine and, yet, equally moved by all presenters including first time speaker, Alexa Glazer, who brought youth and vulnerability to the stage.
This was our fourth Unstuck Happiness Conference. The first took place in March of 2016. I developed the concept because I had spent a lot of time being stuck. When I got moving again, I began meeting amazing people with stories of hope, people like Eddie Garcia, Sheryl Green and Dale Krause. They shared the stage with me at the first conference and were a part of our fourth conference.
It is impossible to feel sorry for yourself after seeing Eddie Garcia speak. Eddie contracted a flesh-eating bacteria four years ago and had both hands and feet amputated. If anyone has a right to feel stuck, it's Eddie, but don't say that to him. Eddie is one of the most positive and happiest people I know. While his story brought tears to the eyes, Eddie was quick to turn tears to laughter.
Dale Krause spoke at the first two conferences about living a bucket list lifestyle while battling cancer. Dale passed away in September, his message is shared at each Unstuck Happiness Conference.
My goal is to continue to inspire people to move beyond their circumstances so that they can experience an unstuck life. Why do I do this? For Abby! My daughter, Abigail, was born with a genetic disorder and was only with us for 42 hours. I believe her life had a purpose and this is it. Her life has had a positive impact on so many people. She is helping people live Unstuck lives.
I think Abby and Dale would be proud to hear comments like Amanda Morgan made after her third Unstuck Conference. "A day at Unstuck is full of fascinating people, poignant stories, life experiences and amazing connections to help fill up your "tool box" with things like: Values, Worthiness, Momentum, Strategies, Decisions, Gratitude, Opportunity, Attitude and so much more!! These are real people sharing their real lives. I am a huge fan of Unstuck Conferences!! There is something for everyone!!"
Learn more about us at:
www.UnstuckConferences.com
and contact us if you would like to see Unstuck in your city.